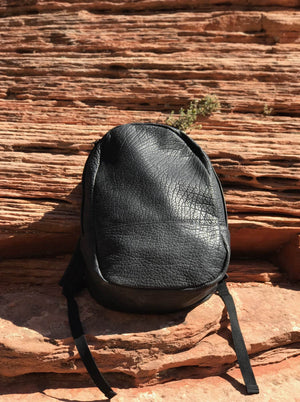 JACK + MULLIGAN x uncrate Welles Backpack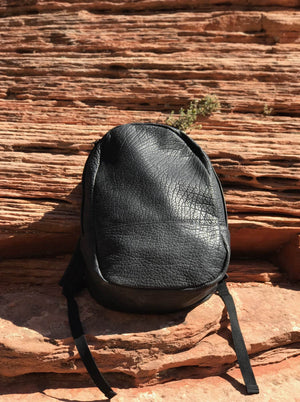 The limited edition Welles Backpack, crafted from premium Shrunken Bison Leather, is a collaboration between JACK + MULLIGAN and uncrate. 
 uncrate has been regarded since 2005 as one of the go-to destinations on the web (and more recently in print with the launch of their magazine) to find a curated feed of the latest and greatest in technology, style, and gear. The products that they tend to spotlight are often high in quality, favor minimal clean design, and have a focus on pragmatic functionality.  
 Our goal is to make products with a sense of permanence, designed to be equally beautiful and functional, that will last the test of time. Tantamount to this pursuit is selecting materials that have a tactile appeal and quality standards that allow them to not only last over time, but hopefully get better with age. 
 The Bison leather used for this project perfectly fulfilled these requirements while also standing out with the unique texture and pronounced grain patterning that it's known for. The hides underwent a shrinking process that softens the leather and accentuates the natural grain detail. 
 Bison leather is unique not only because of its distinct look but also its historical significance and symbolic importance within the mythology of the American West. Bison were revered by American Indian tribes, and relied upon heavily for survival for countless generations before Europeans arrived. They were one of the most abundant resources available to indigenous people, and they not only hunted and harvested them for food, but used every part of the animal including the hides for things as diverse as moccasins, drums, saddles, pipes, and headdresses. At the time of the United States' founding there were over 30 million Bison in the wild. U.S. westward expansion brought market hunting to the frontier, a practice that incentivized hunters to exploit animals en masse as a natural resource rather than for subsistence, which almost entirely wiped out the Bison population, and created conflict between Native Americans and American settlers. Before the practice of market hunting was banned, the Bison population was almost entirely wiped out, with their numbers dropping to less than 1,000 by the late 1800s. The American Bison Society founded at the Bronx Zoo in New York with support from Theodore Roosevelt helped to restore their populations by transporting animals out West by train from the Bronx. There are now over 500,000 American Bison.  
 The JACK + MULLIGAN x uncrate Welles Backpack is a minimal bag with a slim profile suited for daily routines or travel. It features a sizable main compartment with a padded 15" laptop sleeve, waterproof nylon lining and a zippered interior pocket for organizing essentials. Details include a top-handle for carrying and matte black metal hardware. Available for purchase at uncrate.