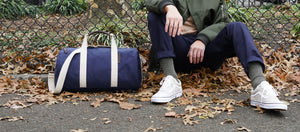 JACK + MULLIGAN's mission is to make practical luxury goods, defined by a sense of permanence. Our design aesthetic draws inspiration from classic silhouettes, updated for modern life on the move. We create products for the long haul, made with the highest level of integrity. 
Our process begins with thinking about how a product should function and how it will endure over time. We uphold every part of the product development process to the highest quality standards. It begins with sourcing the best fabrics and components available, chosen for their functionality, longevity, and without eschewing the tactile qualities of a product, for their look and feel. All of our bags are made locally in the USA by highly skilled craftsmen. 
We believe that luxury is pragmatic, not precious. Our goal is to make functional and durable pieces that inspire adventure, intended to accompany you on your day-to-day for years to come, wherever it may take you. 
Our motto is, "Buy less, buy the best."