true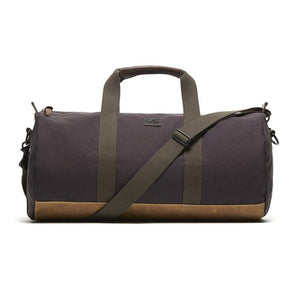 Kennedy Duffel - Eggplant
Designed and produced in the USA, the Kennedy Duffel is equally functional for daily use as a work or gym bag as it is for short travel. The roomy main compartment is made from heavyweight water-repellent canvas, which is extremely durable, and gets better with use. The reinforced waxed canvas bottom provides an extra layer of protection from wet surfaces. The nylon lining protects the bags exterior from any spills or stains on the inside, and the leather accents lend a premium feel and understated sophistication.
Originally developed as a military bag during World War I and II, duffel bags eventually became associated with counter culture as soldiers turned on, tuned in, and dropped out, taking their military issued gear with them. The silhouette was later adopted for use in athletics based on the bags' durability and functionality.
20" L x 11" H x 11" W

Capacity about 44L

Heavyweight water-repellent canvas body

Waxed canvas bottom

Water-resistant nylon lining

Leather reinforced handles and zipper pulls with full zipper closure

Interior zipper pocket

Matte nickel hardware

Adjustable / removable shoulder strap
Great work bag
I have been bringing this bag to work in order to carry extra clothes and store my clothes when I have to change into the hospital issued scrubs. This is usually the only bag I bring since I can store my lunch, water bottle and every day carry. Despite all the craziness out there, I feel stylish rolling into work with this pop of red.
Excellent Quality and Elegant, Simple Design
I have three Jack+Mulligan bags and they are all fantastic! They are sturdy with excellent, heavy-duty hardware. All of my items are black canvas/twill and very well made. First rate quality just like the old days. I had many pleasant email interactions with the owner and he even included a nice note with my purchase. My Kennedy duffle serves as my weekend getaway bag as well as my art supply workshop bag. You will not be disappointed! Thank you Colin!
It was a gift
All 3 bags I've purchased from J&M have been gifts but unfortunately there's no way to note that during checkout. Therefore all I can say is according to my brother he loves his duffle and claims he will likely buy another just to have specifically for work.
The greatest gym/weekender bag you'll ever own
This bag is simply the best! Looks stylish and is made with quality materials and isn't heavy! Amazing!
Best duffel bag ever!!
Love this duffel bag. Have been bringing it with me everywhere I go for the last few months. I got the Black one it's lowkey but looks great and the quality is amazing!
Thank You J+M
When you look at the bag in person, it screams quality. It is even better when you touch it. The bag looks beautiful and the materials are sturdy. I also received a handwritten note and a very nice gift that made my day, thank you guys.