true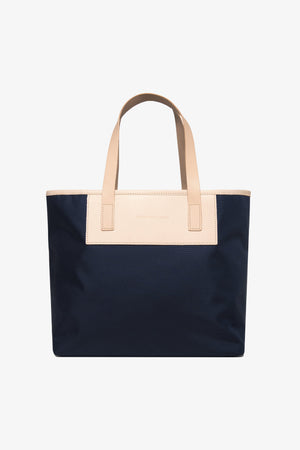 Handmade in the USA 
Zippered main compartment  
9.5" handle drop length designed to fit over the shoulder or carry 
Nylon fabric that's waterproof and lightweight  
Premium vegetable tanned Vachetta leather handles and trim 
2 interior pockets (one zippered and one open) 
Vegetable-tanned Vachetta leather that just gets better with age
Zippered main compartment
2 Interior pockets 

purse for my wife
She absolutely loved her purse thanks so much got me out of a tight predicament with no anniversary present at the last minute and she loved it.
thanks
Love my Pablo tote
I use this bag for work, travel and everyday life and it is amazing. I have recommended it to friends and family and will
Certainly order a new one
Great Large Tote
This tote is great for work or travel. I recently used it for a weekend getaway. It held everything without being too heavy. I can not wait to use it for my vacation tote. Great bag and really nice structure.
OUTSTANDING backpack
I bought the J+M backpack to use in the city and I thought it looked good on the website. But I did not expect the 😍WOW😍 factor ! Everything about the construction is tidy, sophisticated and simple. The canvas weight is substantial and stain resistant…The arm pads are comfy, the zippers and pockets are secure and easy to access. It's uncomplicated look is what I love and it's clear a lot of thought went into the design.
My adult daughter has FOMO from my purchase so I gave her my bag and now will buy a new one (as long as they are in stock.) Made in America 👍🏾 Truly a great purchase.
Quality Camo Tote!
I placed my Woodland Camo Pablo Tote order online and received it a couple of weeks later. This tote bag is durable and I love that the straps are long enough to swing over the shoulder. If you are looking for a quality Camo bag with plenty of space for your essentials this is the bag for you !
Loving this camo tote!
I purchased the medium camo tote and absolutely love the quality. It isn't overly big but it can hold A LOT! I haul everything under the sun and because it's canvas it never feels overly heavy. The zip pocket is great because it's the entire width of the bag so that's nice. The vachetta is beautiful which makes this bag eloquent but fun. I want to thank Lynda for the excellent customer service. She was there for any questions or concerns that I had. Great quality all around that you rarely find today. :)