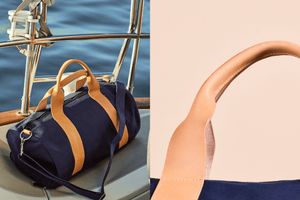 In Detail: The Kennedy Duffel Bag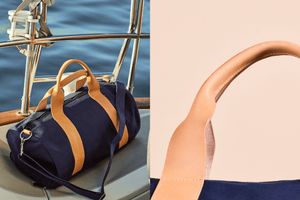 TIMELESS UTILITARIAN DESIGN
When it comes to elegant, functional design, the duffel bag has been a foundational staple for those on the go for well over a century. Originally developed for sailors, the iconic cylindrical bag later became popularized by the military. It then crossed over into the culture at large, transcending its workwear origins, catering to more prosaic and leisurely pursuits. The design has evolved, but the duffel bag remains a trusted favorite for its classic, durable design. 
The history, and name, of the duffel bag can be traced back to the town, Duffel, in Belgium, where the fabric used to make early versions of bag was produced. Then commonly referred to as "Ditty Bags" or "Sea Bags", they were designed for traveling sailors, and were made using heavy wool with a rope drawstring closure.
The US Military adopted the design, and prior to, and in the early days of World War II, began issuing their own version of the duffel bag to soldiers, "Bag, Barrack M-1929". The military's initial version was made using a navy denim with a drawstring closure. The bags were intended for soldiers to store and transport their personal clothing in. Each recruit was issued two such Barracks Bags, labeled "A" and "B" in large letters. 
In 1943 the US military updated its design, making it larger and sturdier, and switching to a heavy olive drab canvas. The bag was adopted by all of its various branches, and in the decades since, has become a fixture at military surplus stores the world over.  
Military policy generally allowed soldiers to keep their standard issue duffel bag upon discharge, and soon, duffel bags were spotted occupying California beaches rather than battlefields, as soldiers headed west for waves, and tuned in, turned on, and dropped out.
Civilians caught on and embraced the duffel bag for more peaceful pursuits. Design updates ensued- zippers, durable synthetic fabrics, and leather iterations for the luxury market. Military duffel bags evolved into gym bags, weekender bags, and fashionable holdalls. 
In the 1980s, New York finance firms put their own spin on the classic design. They began producing custom duffel bags, branded and printed with their company's logo, distributing them to their employees and clients. The custom duffel bags, or "banker bags" as they came to be known, became status symbols for everyone from interns to executives, and remain a signature of the Wall Street and Midtown corporate uniform today. 
The duffel bag epitomizes elegant, utilitarian design. One that's so celebrated it's become truly democratized. It's perfectly suited to a diverse range of people, pursing a multitude of endeavors. Athletes and travelers. Commuters, and campers. Executives and soldiers. A bag perfect for those who cherish form and function in equal measure.
The Jack + Mulligan Kennedy Duffel pays homage to the iconic designs' roots. The bag maintains the streamlined, cylindrical silhouette, and is constructed using a durable, heavyweight, water-repellent canvas. Additional signature details elevate the timeless design, including vegetable tanned Vachetta leather straps and trim, polished nickel hardware, rustproof zippers, a removable and adjustable shoulder strap, and durable waterproof lining with an interior zipper pocket. The Kennedy Duffel is a versatile, pragmatic bag designed for life on the go.